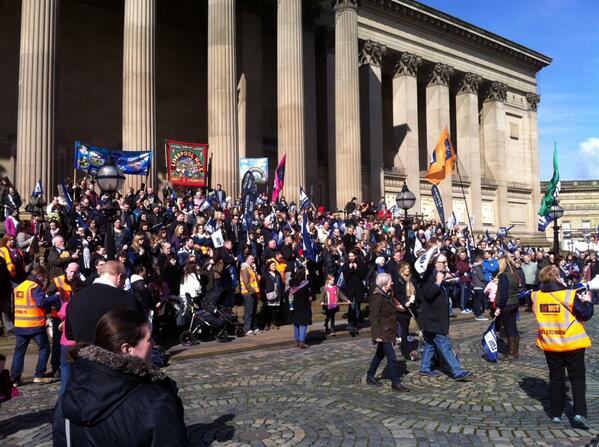 Teachers and supporters at St George's Hall. Photo: @atjackson
As a march of five hundred or so striking teachers snaked its way through Liverpool city centre this morning, the woman with the megaphone tried to get four different chants going. First was "2, 4, 6, 8, Mister Gove negotiate" (he argues he already is). Second was "1, 2, 3 and a half, Mister Gove you're having a laugh" (this rhyme only worked in her southern accent). Then "2, 4, 6, 8, we won't work til 68" (this attack on pensions is already being implemented). All these failed. Then finally, in desperation, "Gove out!". This, at least, got some of the teachers shouting. But attending the march in solidarity, I got the impression that the strike itself was the manifestation of the teachers' power, and the march – which attracted a small fraction of the striking workforce – was a stroll in the sunshine.
Across England and Wales, teachers numbering in the hundreds of thousands struck, closing many schools, and affecting lessons in others. On Merseyside, thirty-six schools in Liverpool, fourteen schools in Sefton and twenty in Wirral were expected to shut for the day.
Last year, the National Union of Teachers and the National Association of Schoolmasters Union of Women Teachers called three jointly-organised, regional strikes last year. They had proposed a joint national strike for November 2013, but this was then called off. Last month, the NASUWT pulled out of today's strike, claiming a "key development" when Education Secretary Michael Gove agreed to hold meetings with the union.

In truth the changes today's strike was officially over are coming into force, with the assistance of union bureaucracies which are stacked with Socialist Workers Party, Workers' Liberty and Socialist Party members. That's not to say they couldn't be overturned by a big, rank-and-file controlled, teacher-led, student and parent-supported movement – but that's not what the tops in NUT or NASUWT are planning. Teachers will now have to pay more for a pension that they cannot access until they are 68, and pay rises will be directly linked to the annual test/exam results of pupils. It is an open secret that this was more of a 'political strike' – even though these are forbidden under the anti-trade union laws. On the Liverpool march, teachers expressed discontent about changes to the curriculum, the increase in academy schools, and a proposed lengthening of the school day. However, performance related pay is also a particular concern in a city with high levels of social deprivation – which obviously impacts on children's learning.
Liverpool's turnout was around a quarter down from last June, when "confidence was boosted by the sheer numbers of people venting their anger together". Few NUT whistles were blown, few NUT clackers were rattled, and the previously mentioned chants went down like lead balloons. But for the most part, the atmosphere was upbeat and relaxed. People seemed to be enjoying themselves.
The public reaction was mixed. Many passers-by smiled, some stopped and clapped the whole march, while a few coming out of one pub booed. One man started shouting something about UKIP as we approached the end at St George's Plateau, while emphasizing that he didn't support them personally.
By all accounts, there is broad public support for the teachers. One tweet doing the rounds shows a large majority of ITV Daybreak viewers – many of whom will have been inconvenienced by today's strike – backing it. But if a movement of teachers is to be successful, this support would have to be transformed into active solidarity.
Like many public sector workers, teachers' morale is at rock bottom. Today's strike gave a small hint of what an education workers' movement could be like. Can we imagine teachers setting up committees in each school, getting support like this from students, involving parents in actions to protect their children's future? We must start dreaming – and planning – bigger and better.